XTM Live Europe – Translation Technology Power Summit
On March 1-2, 2018, the XTM Technology Power Summit took place in Amsterdam. Loctimize was in on it, too. 
The conference was organized by the producers of the translation memory system XTM. It brought together well-known industry clients (Toyota, Citrix, Amplexor, Swiss Post etc) as well as translation management experts – Loctimize being one of them.
On day 1 numerous show cases and TED-style best practice talks presented current trends and developments in translation as well as innovations by XTM. Topics included international search engine optimization, optimization and automation of localization and review processes, as well as new possibilities in language processing involving deep learning and machine learning. Participants also gained insight into the use of XTM in continuous localization as well as the translation of technical documentation using DITA. They were also given tips for introducing and rolling out XTM in a company. Of course, there was room for networking and exchange of experiences between the sessions as well as during dinner at the EYE Film Institute, one of Amsterdam's modern icons.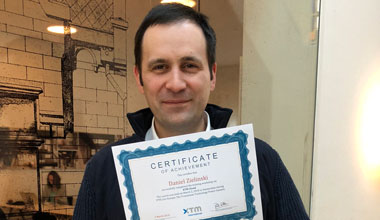 Day 2 featured workshops in which beginners and advanced users were able to acquire and improve skills concerning the use of XTM (e.g. set-up, project management, translation and quality assurance). In the advanced training, Daniel Zielinski from Loctimize learned about new possibilities in translation memory management, quality assurance, modification of additional settings as well as the use of the API in order to automate and integrate XTM into other systems.
All in all, it was a very well-organized event with interesting topics, great people and a pleasant atmosphere.
About us
Loctimize is a market-leading expert for global language logistics. We support a wide range of international businesses and language service providers who appreciate the expertise and experience of an independent expert who has the courage to think outside the box. Our team develops customized solutions and supports you from development to implementation. Let language become your competitive advantage.
We are a modern service provider and your contact for any questions relating to language in the context of globalization, internationalization and localization. We support divisions like marketing, product management, development, documentation and language services - both strategically as well as in their daily business.